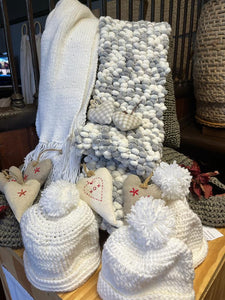 Nature's slower rhythm allows us to pause, nurture, restore, and find time to enjoy small comforts...
r

eflect on the words of William Henry Channing
To live content with small means.

To seek elegance rather than luxury,
and refinement rather than fashion.

To be worthy not respectable,
and wealthy not rich.

To study hard, think quietly, talk gently,
act frankly, to listen to stars, birds, babes,
and sages with open heart, to bear all
cheerfully, do all bravely, await occasions, 
hurry never.

In a word, to let the spiritual,
unbidden and unconscious,
grow up through the common.

This is to be my symphony.
the cosiness of a

hand knitted woollen beanie, pullover or scarf
         Knitted by 98 year old Gogo Hilda Phiri
the sense of

well-being  afforded by

rose-scented hand stitched hearts

hand knitted tea cosies

.
The above are available in our shop.
---
Crisp, cold days and autumn leaves prompt us to prepare for winter.
Unpack warm woollen garments and prepare comfort food ... hearty casseroles, homemade soups and freshly baked bread.
Whether setting the table or creating a cosy couch, include the warm colours of autumn...yellow, orange, rust, copper and brown.
Vincent van Gogh aptly wrote; "As long as autumn lasts I shall not have hands, canvas and colours enough to paint the beautiful things I see."
---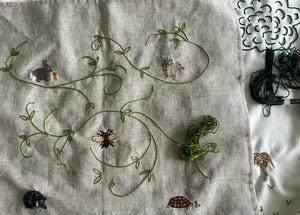 ...the time of the year in the southern hemisphere when animals, people and plants prepare for winter.
Garden visitors heed to their autumn survival instincts; tortoises build sufficient reserves, squirrels store nuts, berries and acorns, bees slow down, and hedgehogs find burrows.
... a time to ground oneself in time and place with needle, fabric and threads.
---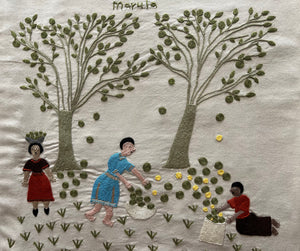 An abundance of golden nectar was harvested at Mogalakwena during the months of January and February.  During marula time in the bushveld...carpets of green and yellow fruit are gathered around the marula trees (Sclerocarya birrea)
The marula is one of the most valued trees in southern Africa, not only for its nutritional value, but also for its spiritual, healing and fertility properties.
The fruit is regarded as sacred and the end of February/beginning of March marks marula festivals in many rural villages throughout southern Africa.  During these festivals the harvest is celebrated and ancestors are thanked.
Archaeological evidence shows that marula has been a food source since 10 000BCE. Marula juice and beer are made, jams and jellies are cooked.  The delicious nutritious kernels are scooped out of the seeds, the wood is used for carving, the bark pulp used as a dye, as an antihistamine and to treat dysentry.
At Mogalakwena Craft Art Studio we capture the harvesting of marulas in needle and thread...what a delight!
---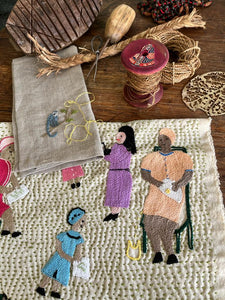 The New Year brings with it a fresh opportunity for creativity. To try one's hand in new endeavours  time to boldly embroider a new story: weave or plait, tie a knot , or catch a stitch in time ……Embrace the journey and write an inspiring new chapter!